Commercial Janitorial Services Peoria IL Companies Can Count On
Selecting a cleaning company to perform commercial janitorial services Peoria IL customers will appreciate can be a difficult undertaking. After all, you're staking your word on your decision. And when it comes to receiving services, the reputation of your business rests on the results. So, when the big boss asks what you based your decision on, we hope your answers include:
Over 30 years of experience
Local and family owned
Above average quality and customer service
Custom cleaning contracts drafted for your unique business
Supervised cleaning crews with a low turnover rate
Timeliness and convenient scheduling
Competitive pricing
"Where can I find such a company?" you ask? Why Corporate Clean of course! We offer commercial janitorial services Peoria IL establishments have returned to for decades. Above all else, we strive to satisfy our customers, and in turn, their customers. Corporate Clean is in the business of improving your business by providing thorough commercial janitorial services Peoria IL consumers will appreciate. A double win is the only victory for us. Once we devise a plan for your business, everything comes down to quality and we've got that one in the bag too.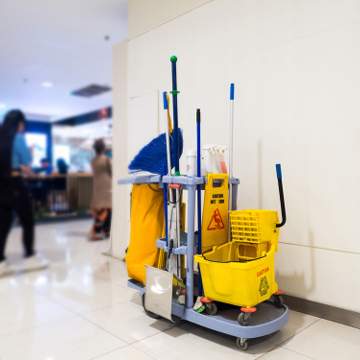 White Glove Cleaning Services
We've all heard the age-old saying, but what does it mean. "White glove" refers to the process of testing cleaning quality by putting on a white glove and sliding your finger along a surface. Then, one of two things will happen:
The glove is still white, meaning the surface was cleaned well.
Visible dust, dirt or grime will stick to the glove.
Keep in mind, the term is more of a saying than a true test. We intend this to be an interesting fun fact. However, while we do not actually perform this test, you are most welcome to. Our well-trained cleaning staff might surprise you. When it comes to commercial janitorial services Peoria IL refers to with confidence, Corporate Clean takes the prize.
Book Commercial Janitorial Services Peoria IL Will Remember
If you'd like to make a lasting impression on your customers, a clean office or building is the first step. Call the experts at Corporate Clean at 309-571-1581. Or, contact us online to schedule an appointment with one of our cleaning professionals. We serve companies in Peoria IL and surrounding areas.