Unlike Any Cleaning Service Peoria IL Can Offer
Behind every successful office is a reputable cleaning company. Not only are you working to impress clients with an immaculate business, but you need to keep your employees happy. By employing the right professionals for cleaning service in Peoria IL, you'll see a noticeable improvement in your work environment. One such professional you can count on is Corporate Clean.
At Corporate Clean, we offer complete and efficient cleaning services for any industry. For the past 30 years, we've served clients throughout Peoria and the surrounding communities. We take pride in the work we do and bring our values of commitment and hard-work to any job we perform. With Corporate Clean, we never miss a spot.
Cleaning Where it Counts
The folks at Corporate Clean are more than your average janitorial service. We provide a fuller, more efficient clean than typical cleaning companies. Our commercial cleaning service gets right down to handling the most difficult tasks of any normal office cleaning routine.
Upkeep of Office Fixtures

You can expect detailed cleaning from our professionals. We do a meticulous clean of the messiest places in any office. Kitchens are scrubbed down while bathrooms are washed and sanitized. We'll even clean the leather and upholstery around your facility.

Extensive Floor Cleaning

There's no flooring we can't handle. For our short-term clients, we strip, wax, seal and polish all hard surfaces. On tiles, we'll even renew the color of your grout. And if you become a long-term client, we also offer carpet cleaning services.

Maintaining Your Space

We tidy-up and sanitize your workstations without ruining any of your organization. Additionally, we vacuum, sweep, mop and dust every surface around your office space. Finally, we remove any waste accumulated from previous days.
Anywhere You Want It
When you hire Corporate Clean, you get the best janitorial service, building maintenance, floor care and commercial cleaning. Our cleaning service in Peoria IL is unmatched when it comes to our competitors. Additionally, we offer custom contracts for either long-term or short-term care and can match payments and plans to individual industries. Such industries we've cleaned for include: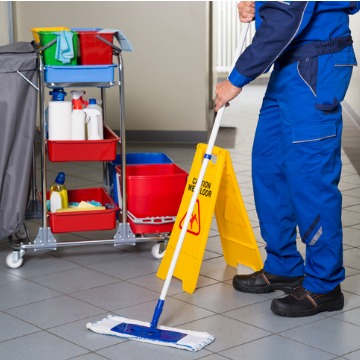 Corporate
Healthcare
Manufacturing & Distribution
Restaurants & Hospitality
Retail
Banking
Education
Contact Us
Don't settle for a messy office any longer when you can get the best commercial cleaning Peoria IL has to offer. Call Corporate Clean today at 309-571-1581 and get your first two weeks free as a new client. Also, we are located at 4417 Entec Dr., Bartonville, IL 61607.