Work with the Commercial Floor Cleaner Peoria IL Calls First
When it comes to floor care, Corporate Clean has it all. If you are looking for a commercial floor cleaner Peoria IL recognizes for sparkling floors, contact us today! We offer these services to help your flooring last longer and look like new:
Stain removal
Floor sweeper scrubbing
Tile and grout color renewal
Hard surface floor cleaning
Floor waxing
Floor sealing
Hardwood floor care
Floor stripping
Floor polishing
Area rug cleaning
Vacuuming, sweeping and mopping
As if that wasn't enough, we also offer carpet cleaning for our existing clients. So long as your business retains a routine cleaning contract which includes additional services, we'll clean your carpeting as well. We added this service as a convenience to our valued customers, by request. At Corporate Clean, we'll do everything we can to keep you satisfied and excited about your commercial cleaning services.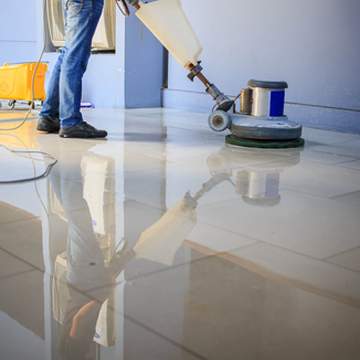 Corporate Clean Takes Precautions to Avoid Slips and Falls
Though slippery floors are most often caused by contamination, using a wet cleaning process to clean them can make them even more slippery during and immediately after. These are some steps we take to control the problem as opposed to exacerbating it:
Cleaning floors outside of working hours as often as possible
Working in sections, leaving a dry path at all times
Putting up barriers when possible (many people do not see caution signs alone)
Following up a wet mop with a dry mop
Allowing a trained operator to clean the floor with a machine
We Want to Make Your Business Shine – Call Now!
Make sure to work with the commercial floor cleaner Peoria IL has trusted with their hardwood, tile, carpet and hard surface flooring for more than 30 years. Contact Corporate Clean by calling 309-571-1581 today! We have a wide service area, including Peoria, Bartonville, Washington, East Peoria, Morton, and surrounding areas. We know good floor cleaning companies can be hard to come by. So, what are you waiting for?