Revive Your Business with Help from Cleaning Services in East Peoria IL
For any business, the primary focus should be on their employees and customers. Keeping both happy and coming back is the key to success. However, how can you expect either group to feel satisfied and content with your business if you can't clean it properly? Without a tidy and orderly workspace, you'll begin to see profits fly out the door. But, by hiring professional cleaning services and East Peoria IL, you, your employees and your customers can feel at ease. To get your commercial cleaning started, call Corporate Clean today.
With Corporate Clean, you get the office and industrial cleaning services many businesses look for. Moreover, our professional cleaners are some of the best around. Whether you operate an office, retail store, medical facility or anything in between, our staff are equipped to handle your worst messes. With state-of-the-art equipment and professionals who dedicate themselves to your work, you're always getting the best clean possible.
How Does Professional Cleaning Help?
There are more benefits from a clean office than "looking pretty." A thorough commercial cleaning of your facility can ensure an improvement in employee morale, save you money and bring in more customers.
Healthy and Happy Employees

While benefits and decent pay are what employees may be looking for, they also want to work in a comfortable, safe and clean environment. If you don't properly clean your workplace, not only will employees become discouraged, but they risk becoming sick more often.

Save More Money

Additionally, the more employees you have sick or producing less, the more money you lose out on. By keeping your facility clean, you ensure money isn't wasted on so many sick days. Moreover, a professional cleaner will buy and provide the supplies needed to clean your facility, so you don't have to.

Bring in Customers

Whether looking to attract more guests, visitors, customers or patients, a cleanly facility will do the job for you. When your business is well-kept and spotless, sets a more professional tone. Thus, those who visit your facility will want to continue coming back and will begin recommending you to others.
A Professional Cleaning for Your Industry
While other cleaning services in East Peoria IL may only offer work for a few choice industries, Corporate Clean covers most any business. We offer flexible contracts and affordable rates for near any industry. With over 30 years of janitorial service for the Greater Peoria area, you can count on us to get the job done. Some of the industries we clean for include: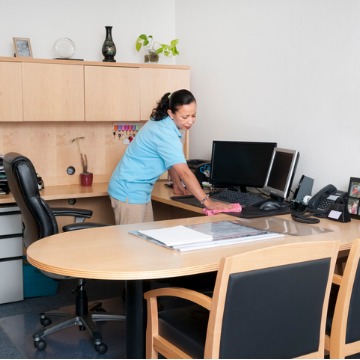 Offices
Healthcare
Manufacturing
Retail
Restaurants
Education
Banking
Construction
Cleaners You Can Count On
Don't let your business flounder and suffer any longer without cleaning services in East Peoria IL. Get the commercial clean you've been looking for from Corporate Clean. You can contact us at 309-228-9268 to request a quote. Also, we are located at 4417 Entec Dr, Bartonville, IL 61607.