How Can You Create an Efficient Work Environment with Industrial Cleaning?
For industrial facilities, such as manufacturing plants and warehouses, cleanliness is of the utmost importance. Not only do certain standards need to be met in terms of state and federal regulations but keeping your facility clean benefits the health and efficiency of employees. To achieve both goals, Corporate Clean provides the industrial cleaning Peoria IL needs.
Corporate Clean employs highly skilled professionals to help your company with specialized cleaning. For 30 years, we've made a name for ourselves as the best cleaning company of the Central Illinois area. Together with advanced cleaning technology and our experienced staff, we ensure your facility receives the thorough clean it deserves.
Why Do You Need Industrial Cleaning?
Factories and the manufacturing industry require some of the strictest cleaning regiments to comply with industry cleanliness regulations and standards. So, to achieve these standards, one of Corporate Clean's many specializations is industrial cleaning.
Proper Cleaning for Chemicals

Depending on the facility, some companies handle specific chemicals in day-to-day work. However, if these chemicals aren't properly cleaned and disposed of, it could cause serious health risks to employees. Leave it to us for safe chemical cleaning.

Heavy Duty Messes

A manufacturing plant doesn't produce the same kind of mess an office would. For the exceptionally large messes, you require stronger equipment. Thankfully, we have the tools necessary to remove harsh stains and contaminants in addition to clearing out excessive dirt and debris.

Safe Work Environment

Safety, above all, is the most crucial factor to achieve in an industrial plant. By ensuring we properly move equipment, correctly handle chemicals and clear floors completely, you promote the highest safety standards possible.
The Other Industries We Handle
If you're looking for something other than industrial cleaning in Peoria IL, Corporate Clean has you covered. We have done work for a variety of industries and allow the most flexible payment plans possible. By opting for either short-term or long-term contracts, you can get the clean you need, tailored to your exact industry. For example, such businesses we've done work for include: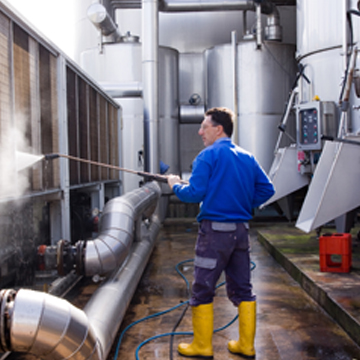 Hospitals and Doctor's Offices
Restaurants and Kitchens
Schools and Daycares
Banks
Offices
Retail Stores
Give Us a Call
To make sure your facility is up to maximum cleanliness, hire the best industrial cleaning Peoria IL has to offer with Corporate Clean. Call us today at 309-571-1581 and get your first two weeks free as a new client. Also, we are located at 4417 Entec Dr., Bartonville, IL 61607.