The Area's Leaders in Commercial Cleaning for Pekin IL
Just as you like your home to be spotless, so should your workspace! However, cleaning an office, store or commercial facility requires more work than a typical residential property. For one, you might lack the proper equipment and cleaning chemicals to ensure total cleaning and sanitization of your property. As a business owner looking for ways to manage your facility's cleaning, you require professional commercial cleaning for Pekin IL. It's time to give Corporate Clean a call!
Why Choose Corporate Clean?
Understandably, hiring a janitorial company for your business cleaning is a significant commitment. After all, you want to find affordable, experienced, local, and hard-working professional cleaners. Thankfully, Corporate Clean is all of this and more! With Corporate Clean, you can expect:
Custom Contracts Matched to Your Needs

Commercial cleaning isn't "one size fits all." Every facility is unique, requiring specific cleaning and care only a professional cleaner can provide. As such, Corporate Clean customizes your cleaning contract to fit your facility's needs. We will inspect your business to determine the best plan of action and what services you most require and create a contract geared toward your budget and schedule.

Job Supervision with Every Project

To guarantee the highest quality commercial property cleaning, Corporate Clean includes at least one supervising staff member for every cleaning job. Our supervisors are well-versed in best cleaning practices and directly oversee the work performed by our cleaning staff. Once complete, our supervisors inspect the work done, ensuring your facility is spotless.

Local & Family-Owned

Being a family-owned business, Corporate Clean takes great pride in the family values we instill in our employees. Our expert staff are taught to adhere to white glove standards when cleaning your property. Furthermore, our cleaners are local and always punctual, ensuring we always arrive and complete work within the allotted time. Rest assured, you're receiving the best possible service when you hire Corporate Clean.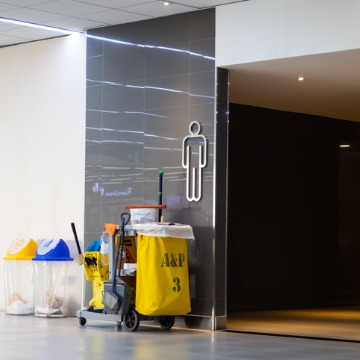 Specialized Cleaning for Your Industry
No two industries' messes are the same, each requiring different cleaning techniques, chemicals and equipment. For this reason, Corporate Clean specializes in cleaning for industries and businesses of all kinds. Our cleaners are trained and certified to manage anything from basic office cleaning to sanitization of healthcare facilities. For example, we've provided commercial cleaning in Pekin IL for industries like:
Call Today!
If commercial cleaning in Pekin IL is what your facility needs to stay happy and productive, call the expert local cleaners at Corporate Clean! To learn more about our services or request a quote, contact us at 309-693-1556. We are located at 4417 Entec Dr, Bartonville, IL 61607.