Deep Cleaning in Peoria IL from the Professionals
You might be able to keep up with basic cleaning that helps your business stay tidy. However, for those instances where your facility needs more than a surface level clean, local professionals can provide deep cleaning in Peoria IL. The services Corporate Clean provides can help keep your workspace germ-free, so your employees and clients stay happy and healthy.
What's Included in Deep Cleaning?
Over a few hours, Corporate Clean will clean, sanitize and disinfect every surface of your facility. Our goal is to eliminate potential contaminants that might make you, your customers and your staff unwell.
Where We Clean

At Corporate Clean, no stone is left unturned. Every room of your facility and office space is carefully detailed with our precise cleaning. This includes kitchens/breakrooms, restrooms, personal offices, breakrooms, hallways, lobbies, and more. Furthermore, our team finds and cleans every countertop, window, floor, doorknob, keyboard and free surface.

How It's Cleaned

To ensure we remove viruses, germs and other contaminants from your business, we apply specialized disinfectants to every part of your facility. Only after we thoroughly clean everything do we apply our sanitization methods.

Frequency of Cleaning

Deep cleaning of your facility isn't something that should be done every week. However, every few months or so works as a better time frame for deep cleaning in Peoria IL. Or, if you notice sickness in employees or clients coming through your office, deep cleans can stop germs from spreading any further.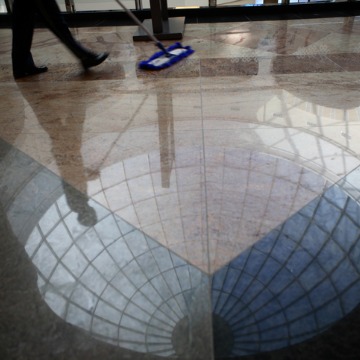 Our Other Cleaning Services
Deep cleanings aren't necessary all the time, but that doesn't mean your business should go without cleaning services! Corporate Clean offers additional cleaning services for a variety of industries. From window cleaning to floor care and everything in between, we can take care of your facility while you focus your business. For example, we provide specialized cleaning for office spaces, healthcare facilities, distribution facilities and more.
Contact Us
When the time comes for deep cleaning in Peoria IL, you know who to call! Contact Corporate Clean today at 309-571-1581 to request a quote. Also, our office is located at 4417 Entec Dr, Bartonville, IL 61607.