Thorough Cleaning with Disinfection Services in Peoria IL
As companies make concerted efforts to ensure their facilities are as clean as possible, more people require disinfection services in Peoria IL. Thankfully, Corporate Clean has plenty of experience providing deep cleaning for businesses across various industries. With a quick call to our office, you too can benefit from thorough disinfection and sanitization.
How Our Disinfection Services Work
We approach commercial cleaning in several steps to provide the best possible deep clean for your business.
Deep Clean – Before applying disinfectant to any surface, we first go over everything with a fine-tooth comb. While deep cleaning your facility, we scrub, wash and wipe down every room, including offices, breakrooms, kitchens, restrooms, hallways, lobbies and more.
Industry-Specific – We understand how every business is different and sometimes requires specialized cleaning and disinfection. For example, healthcare facilities require deep cleans more often and use a higher grade of disinfectant and sanitization chemicals, which Corporate Clean can provide.
Disinfectant Spray – After deep cleaning your facility, we spray and cover all surfaces with a disinfectant spray that eliminates all germs, viruses and contaminants. Furthermore, the spray can protect surfaces from further contaminants for many months after application.
Continued Cleaning – Every few months, once our disinfection services in Peoria IL have run their course, we can provide additional sanitization and cleaning. Our goal is to keep you, your employees and your clients happy and healthy under the most "virus-prone" circumstances.
Specialized Cleaning for Your Business
Corporate Clean educates our staff on the intricacies of cleaning for a variety of industries. Furthermore, our team has the experience and equipment to provide deep cleaning, daily cleaning or weekly cleaning for any business within: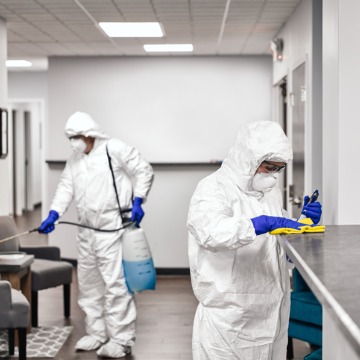 Give Us a Call
We need disinfection services for Peoria IL now more than ever. So, why not count on local cleaning experts for the disinfection and deep cleaning your business needs? Call Corporate Clean today at 309-571-1581 to request a quote. Also, our office is located at 4417 Entec Dr, Bartonville, IL 61607.