Open for Business with Post Construction Cleaning in Peoria IL
Is your new business ready for opening day? If on the heels of new construction, there might be more dust and debris left behind than you might think. This "dirtiness" is typical to find after new construction; however, it's essential to take care of before employees and customers begin showing up. Thankfully, Corporate Clean has done our fair share of post construction cleaning for Peoria IL. We can make your business shine before opening day.
A Detailed Clean
When it comes to post construction cleaning, it's all about the finer details. Your facility's first clean should address every nook and cranny due to the unpredictable level of filth and grime after a building's completion.
Trim and Baseboards

While the trim and baseboards aren't always what your eyes are immediately drawn to, you'll notice what is and isn't dirty in these areas quicker than most. And thankfully, these are the parts of your interior that won't need serious cleaning for a time after your initial clean.

Floors, Counters and Other Surfaces

Sawdust, dirt and debris will settle just about everywhere after construction. Thus, your most accessible areas are the most likely to be the dirtiest. For floors, we will wash, vacuum, scrub or otherwise to remove likely grime. The same detail goes into cleaning counters, tabletops, and other surfaces you get the most use out of.

Cabinets and Closets

It's likely that the mess after construction even reaches into cabinets, closets and other storage rooms! And if you plan on keeping necessary supplies or equipment tucked away, you don't want anything sitting on layers of dust.

Light Fixtures

For commercial spaces with hanging light fixtures, it's easy to miss dust build-up on top. However, when clouds of drywalling debris and sawdust settle, they can reach the highest places. Thus, we're sure to check and clean areas your average cleaning crew might not consider.

Walls, Doors and Windows

Construction crews aren't the cleanest. And while they'll do their best to remove large debris before completing a job, evidence of construction can be found in all the places they've touched or passed over—for example, your walls, windows and doors. Thus, post construction cleaning for Peoria IL will ensure everything shines, from windowpanes down to doorknobs.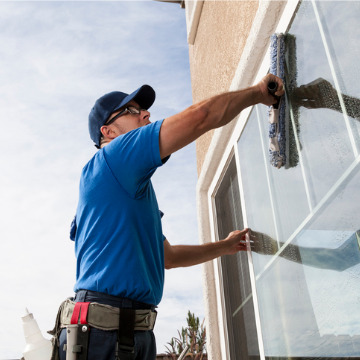 Specialty Cleaning for Your Industry
Corporate Clean offers more than "one-time" cleaning services such as post construction cleaning. In fact, our professional cleaning staff is well versed in various industry cleaning practices, so to best serve your specific business. For example, the industries we clean for include:
Give Us a Call
Before opening your doors for the first time, make sure your facility is as clean as possible with post construction cleaning in Peoria IL from Corporate Clean. Call us today at 309-571-1581 to request a quote. Also, our office is located at 4417 Entec Dr, Bartonville, IL 61607.