Contact Corporate Clean for Quality Commercial Cleaning Services in Dunlap IL
Keeping your workplace a clean and healthy environment for your employees and customers is a must. Look no further than Corporate Clean for commercial cleaning services in Dunlap IL. Our services include but are not limited to restroom cleaning and sanitation, kitchen and appliance cleaning, leather and upholstery cleaning, construction site cleanup, spot cleaning, and stain removal. In addition, we offer multi-surface floor care, floor stripping and waxing, floor sealing and polishing, window cleaning, workstation sanitation. And we provide computer cleaning and disinfecting, garbage removal and recycling, vacuuming, sweeping, and mopping, and dusting and wiping down hard surfaces. We are there to do the job thoroughly and to your complete satisfaction.
Our Services
Corporate Clean provides services throughout the greater Peoria area for several different industries. We offer building maintenance for a number of industries, including apartment buildings, hospitals and medical buildings, restaurants, and bars. In addition, we clean retail stores and shopping centers, factories and warehouses, distribution centers, banks and corporate office buildings, construction sites, schools and universities, and hotels and motels.
Our janitorial services keep your offices free of dust, dirt, and grime. We also offer a variety of floor care services that will help your flooring last longer and keep it looking like new. We can help with stain removal, floor sweeper scrubbing, tile and grout color renewal, hard surface floor cleaning, floor waxing, floor sealing, hardwood floor care, floor stripping, floor polishing, area rug cleaning, and vacuuming, sweeping, and mopping. For existing clients, we also offer carpet cleaning. We are proud to meet the requests of our clients in the many services we offer. We guarantee the best clean for your business.
Areas Served
With an office located in Bartonville, we are proud to say that Corporate Clean is a family owned and operated company. And we are proud to provide commercial cleaning services in Dunlap IL and the greater Peoria area. We serve a wide variety of industries. In addition, we follow all industry regulations in our cleaning practices. And we have over 40 years of experience.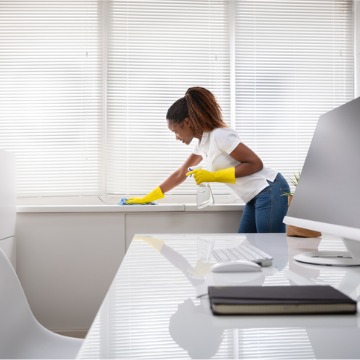 Contact Us
Call 309-693-1556 today to speak with a representative about pricing and contract options for commercial cleaning services in Dunlap IL and greater Peoria. You can also request a quote through our website. Let us help with your commercial cleaning needs.