Qualified for Medical Cleaning Service in Peoria IL
While office, retail or hospitality cleaning are all straightforward enough, medical cleaning service in Peoria IL is something else entirely. Medical facilities such as hospitals or doctor's offices require more precise cleaning, disinfectant and sanitization services than other industries. Furthermore, cleaning for the medical industry requires certifications other professional cleaners might not possess. Thankfully, Corporate Clean has the right qualifications for medical cleaning and has experience cleaning for multiple healthcare facilities throughout the area.
What to Consider with Professional Medical Cleaning
As mentioned previously, cleaning for healthcare is unlike other industries. Our professional cleaners are taught this specialized cleaning process and understand what must be considered when partaking in medical cleaning.
Immaculate Appearance – Looks are everything in a healthcare setting. You wouldn't want to walk into a hospital, urgent care facility or dentist office and find layers of dust, overflowing trash cans and the like. Not only do such messes come off as unprofessional, but it makes patients question the ability of your facility and staff. Conversely, with a clean and sterile appearance, patients will place their trust in your facility.
Complete Sterilization – While you ought to be concerned with the appearance of your doctor's office or hospital, your facility should be as clean as it looks. Thankfully, our medical cleaning service for Peoria IL is akin to deep cleaning daily. We disinfect and sterilize every surface of your facility, eliminating all germs and viruses. After all, your patients are looking to restore their health and not be exposed to more illness.
The Right Tools and Qualifications – Ultimately, to ensure your medical facility is abiding by all cleanliness standards, you want cleaners who know what they're doing. And putting together and training a staff of cleaners for your facility can be a lot of work. Thankfully, Corporate Clean takes care of the hard parts for you. Our team has the right qualifications, certifications and tools necessary to start cleaning right away. We save you time and money when searching for the right professional cleaners.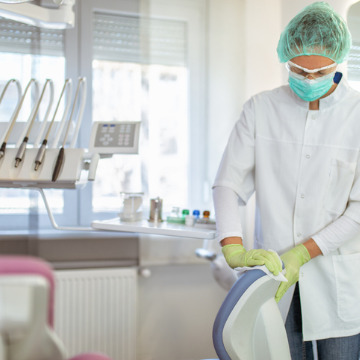 Focused Cleaning for Your Industry
Corporate Clean looks to stand out from other commercial cleaners by offering cleaning services for various industries. Whether looking to clean your office or wanting a full scrub-down of a factory floor, we've got you covered. The industries we are qualified to clean and have experience cleaning for include:
Learn More
If interested in medical cleaning in Peoria IL for your healthcare facility, give the team at Corporate Clean a call today. You can contact us at 309-571-1581 to request a quote. Also, we are located at 4417 Entec Dr, Bartonville, IL 61607.